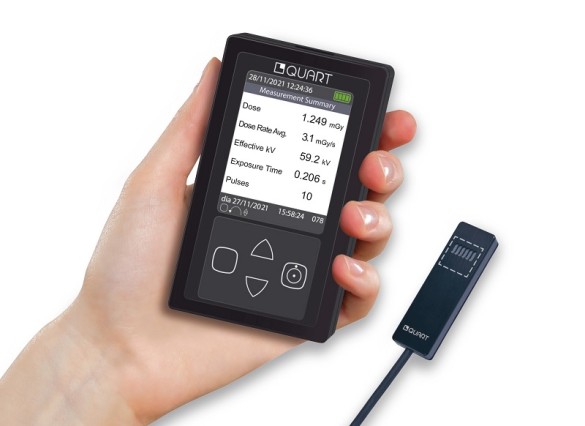 QUART didoNEO R
1
X-Ray Multi-Meter for Service and QA in R&F and Dental
Art. 11120
The QUART didoNEO line of meters introduce a new approach to the market of diagnostic x-ray measurement:
• The system features the lightest multi-functional base unit ever designed in our industry.
• didoNEO sports the smallest and thinnest multi-parameter detector available.
• The user can access a waveform preview on the unit's display in the field – without the need to access a PC or laptop.
• Up to 10.000 exposures are stored in the memory for future reference or reporting.
Base Unit
The didoNEO's base unit (and detector) is optimised in size and weight. They represent both the most compact x-ray meter sensor and base unit in the industry. The unit screen enables an exposure wave form preview - simply tilt the device to show. Zoom-in and out for detailed visual analysis of the exposure graph.
Detector
The compact detector design enables measurements at locations with limited space, for instance behind scatter radiation grids to determine the equipment attenuation factor. The small size also has a very low influence on fluoroscopy AEC. The detector can be easily and efficiently positioned at dental panoramic x-ray equipment*. Direct-HVL and Total Filtration measurement are integrated and calibrated upon delivery and are not charged extra.


Technical specifications
General Features
Exposures: one to acquire all parameters
Mode: auto-start, auto-stop & auto-reset
Power supply: rechargeable Li Ion accu
Battery time: approx. 10 working hours until recharge required
Base size: 12 x 7 x 2 cm (LxWxH)
System weight: 200 g
Detector size: 6.0 x 1.8 x 0.7 cm (LxWxH)
Detector weight: negligible (!)
Parameters
Dose
Dose-Width Product*
Dose Rate Real-time / Maximum / Average / Half Exposure
kV max. / kV eff. (PPV)
Pulse / Pulse Rate
Exposure Time (IEC 60601-2-54) / Radiation Time
Direct-HVL
Total Filtration
Specifications
Dose: 1 µGy – 1 Gy (Uncertainty ±5%, Resolution 0.1 µGy)
DWP: 1 µGy*cm - 1 Gy*cm (Uncertainty ±5%, Resolution 0.1 µGy*cm)
Dose Rate: 0.5 µGy/s – 1 Gy/s (Uncertainty ±5%, Resolution 0.1 µGy/s)
kV: 40–125 kV at 1.0 – 8.5 mm Al total filtration (Uncertainty ±6 % or considerably better at known medical radiation qualities, Resolution 0.1 kV)
Pulse: 1– 65.000 (Uncertainty 1 Pulse, Resolution Single Pulse)
Pulse Rate: 0.1– 250 Pulses/s
Time: 0.2 ms – 296 s (Uncertainty ±0.7 ms, Resolution 0.1 ms)
Direct-HVL: 0.8 – 13.3 mm Al at 1–50 mm total filtration, 40 – 150 kV (Uncertainty ±6%, Resolution 0.1mm)
Total Filtration: 1.0 – 8.5 mm Al at 60 – 90 kV (Uncertainty ±7%, Resolution 0.1 mm)
Measurement Uncertainty Definition
Uncertainty is stated as relative combined standard uncertainty calculated according to JCGM 100:2008 (GUM) and JCGM 101:2008 (GUM Supplement 1). Included are all quantities of influence as specified in DIN EN 61674:2015-11 using the maximum permissible deviation as conservative estimate unless specific measurement results are available. The declared values apply over a wide range of exposure conditions, but may be exceeded for combinations of very low dose and low dose rate.
Data Transfer
Micro-USB 2.0 (Micro B – USB A cable)
USB connection actived upon delivery
* S A Mitchell and C J Martin, Comparison of ionisation chamber and semiconductor detector devices for measurement of the dose–width product for panoramic dental units, J. Radiol. Prot. 33 321 (2013).
>> Link to Article
In 1999 the National Radiological Protection Board (NRPB) recommended the introduction of DWP for the measurement of patient dose in panoramic dental radiology.
The DWP has further been recommended as a dose reference by: Napier ID. Reference doses for dental radiography. Br Dent J (1999) 186: 392–6.


To install this Web App in your iPhone/iPad press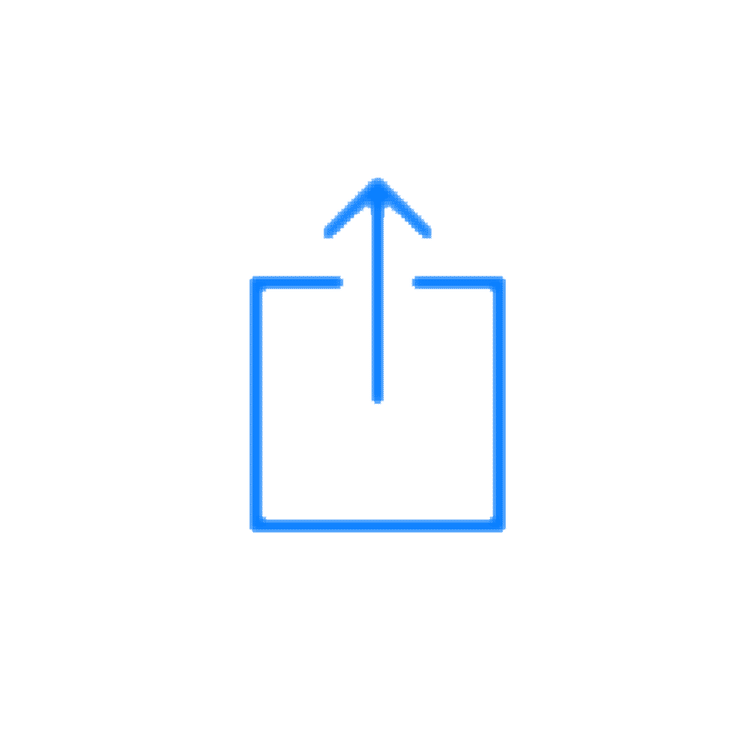 and then Add to Home Screen.