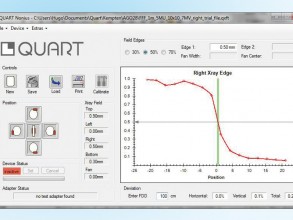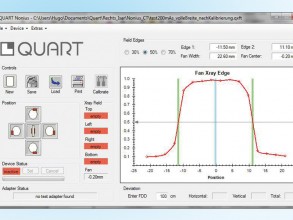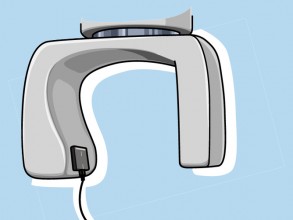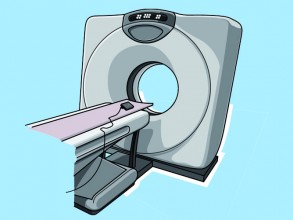 QUART nonius
1
Direct Electronic X-Ray Ruler for Field and Fan-Beam Measurement
The QUART nonius is an easy-to-use and very sophisticated measuring instrument to verify size and geometrical properties of x-ray fields. It can also be used to analyse characteristics of fanned x-ray beams as used in CT or dental panoramic x-ray (OPG).
The QUART nonius is incredibly flexible: it it suitable for digital as well as conventional x-ray modalities. In any case, its precision is an absolute strong point – as it achieves a resolution in the so-called nonius range of 0.1 mm.
The nonius software to operate the device is available as single or multi-user on-premise installation.
Digitisation in x-ray technology makes traditional screen-films less available. Originally, they were used for checks on x-ray beam properties. Today, the QUART nonius performs the same task. And it provides even more substantial features.
The QUART nonius can be used to verify if the light visor matches the actual x-ray field. In addition, the nonius provides the option to assess the position and width as well as the dose profile of fanned x-ray beams. For that purpose, it features markings to line-up the light field or positioning lasers.
Recent studies have proven that QUART nonius can also be used for field measurement in radiation therapy applications.*


Technical specifications
Mode of Operation
Operating the QUART nonius is easy and straight-forward:
1. Connect the device via USB to a Laptop or Tablet PC (Windows OS required).
2. Position the head unit at the respective position.
3. Use light field or a reference point for alignment.
4. Trigger the QA/QC exposure.
5. Immediately evaluate the results.
Specifications
Accuracy / Resolution: +/- 0.1 mm
Exposure Threshold: Dose = 100 µGy / Dose Rate = 20 µGy/s
Minimum Exposure: Variable; depends on application and tube filtration
Measurement Method: Open measurement – no added filtration
Connectivity: Standard USB (2.0)
Plug and Play Component
System Requirements: 1 available USB port
Operating System: Windows 8 / 8.1 / 10 and compatible
Sensor Area: 40 mm Length
Radiopaque center marker (Visible in test exposure)
Weight: 190 g (without USB Cable)
Size of Head Unit: 55 x 75 x 15 mm (W x L x H)
Y. Popova, G. Hersemeule, R. Klausz and H. Souchay, Digital Guidance Solutions, GE Healthcare (France): DESCRIPTION AND BENEFITS OF DYNAMIC COLLIMATION IN DIGITAL BREAST TOMOSYNTHESIS, Radiation Protection Dosimetry (2015), pp. 1–4.
* Hugo de las Heras Gala, QUART GmbH, Zorneding (Germany), Katharina Mair, Strahlentherapie Süd – Kempten im Allgäu, Kempten (Germany), David Coll Segarra, CNMC Co, Nashville, TN (USA), Felix Schöfer, QUART GmbH, Zorneding (Germany), Oliver Blanck, CyberKnife Center Northern Germany & University Clinic Schleswig-Holstein, Lübeck (Germany), S. R. Szeglin, CNMC Co., Nashville, TN (USA): QUALITY CONTROL IN RADIATION THERAPY WITHOUT FILM. Med. Phys. 40, 218 (2013).


To install this Web App in your iPhone/iPad press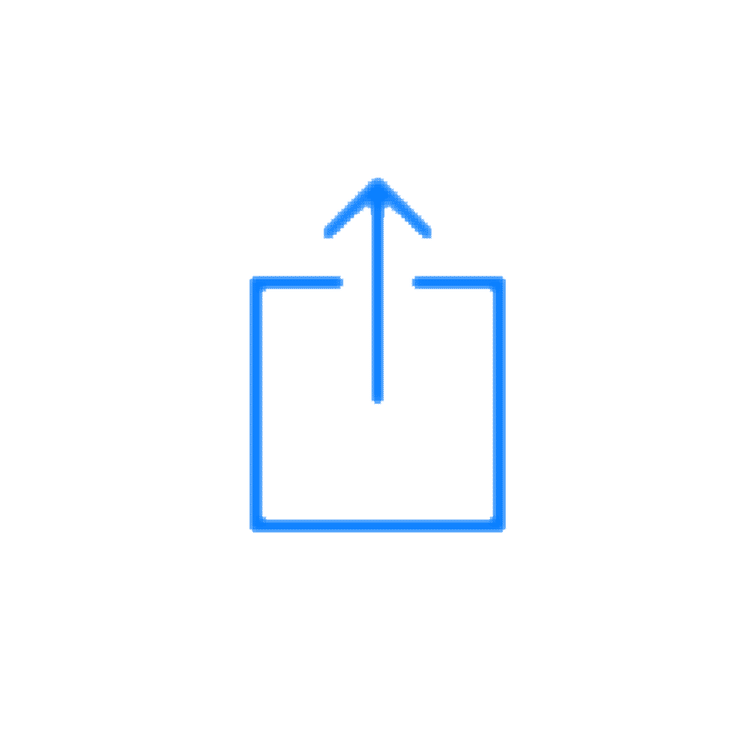 and then Add to Home Screen.